Professional Web Design Services
Telling your Brand Story Since 2009.
Professional Web Design Services
Professional Web Design Process
Our professional web design services follows a set of processes beginning with informational architecture, prioritized user tasks, conversion goals, and journey mapping.
We don't use boilerplate templates. Instead, we build custom designs that suit your unique business culture, style, and message. The end result is more traffic, more leads, and more website conversions, and a final professional web design product that both the client, and the design team, can be proud of.
Developing a Strategy
Before we start thinking about style, it's critical we take a deep dive into understanding your company and your audience. Learning the goals you have for the new website, and exploring the ways it can enhance your business, allows us to develop a conversion-focused experience. From that foundation we can build out the design to help guide visitors to those end goals.
Whether it's increasing product sales, generating leads, promoting a key piece of content, or demonstrating industry expertise, we want your website to serve a specific purpose. The team at Sayenko Design will work closely with you to ensure you're receiving a powerful, efficient and highly customized solution.
Our website strategy phase involves several key elements:
Questionnaire and Discovery – We'll ask you for important feedback on what makes your company unique, and how it operates. This informal discovery also allows us to learn more about your customers and target audience.

Persona Development – Not every visitor to your site is after the same thing. After establishing some common customer/visitor types we'll then qualify their experiential desires, and quantify what actions they might take on the site.

Conversion Mapping – Visitor actions on the site can be prioritized based on their impact on your bottom line. We'll take your business goals and map them to specific, measurable online interactions. Not only does this help us in planning and design, but it also provides you a trackable metric to measure success and growth.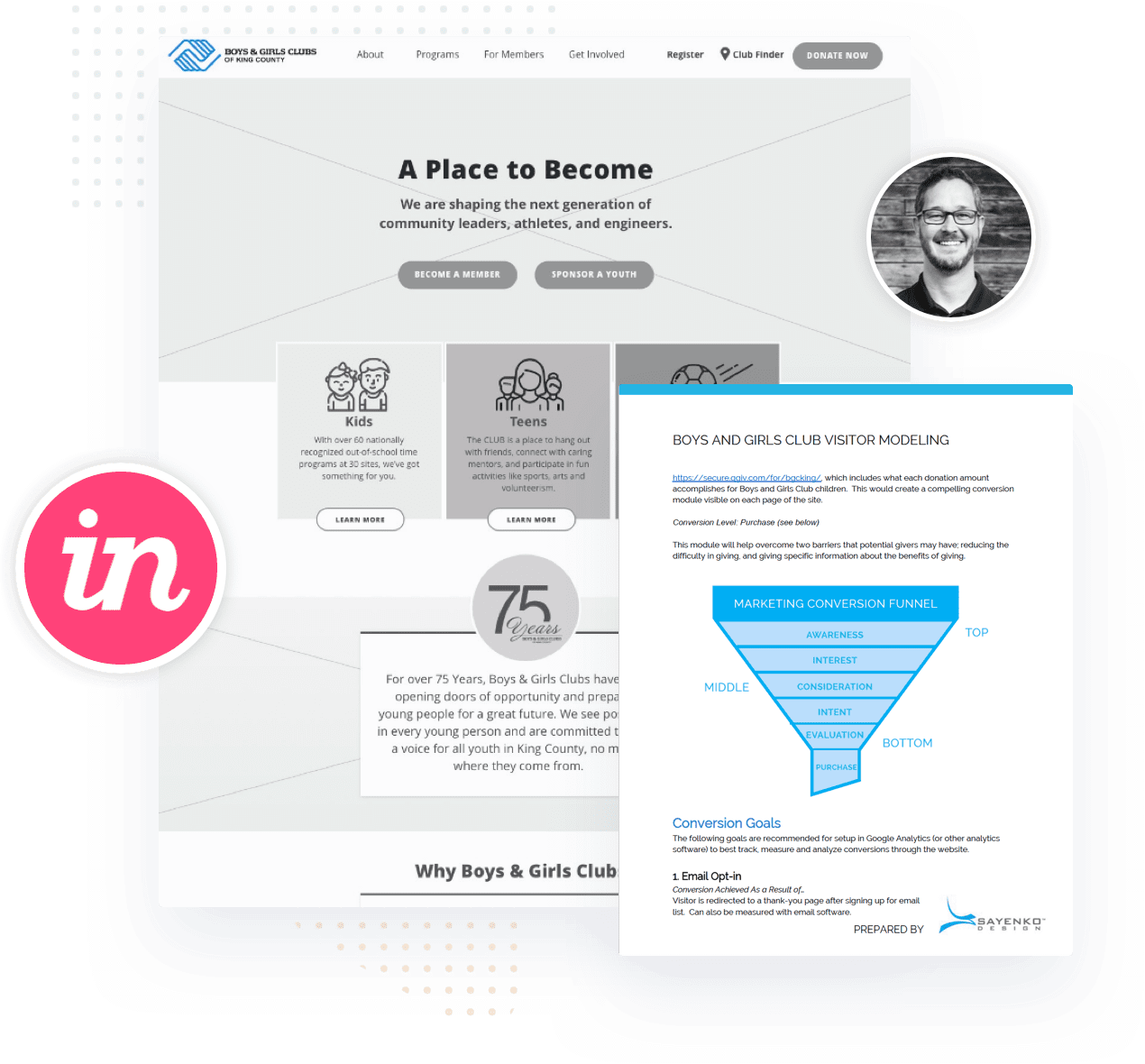 Website Wireframes
Think of website wireframes as a black and white blueprint of the mission-critical pages we're going to design. The focus is on strategy, visitor intent and determining the most efficient site architecture (while still factoring in SEO considerations). Wireframes are static images that are presented and can be viewed on a web browser by all stakeholders.
These prototypes are interactive, which means your team is able to click through from the homepage deeper into the site, providing an initial feel for the user experience. For more see our in-depth user experience web design principles article.
Mockups
Once wireframes are approved we move onto high-fidelity mockups starting with the homepage. This represents the way your website will look and feel, and how visitors will interact with the final product. We usually present 1-3 design concepts that act as a mood board and sets the tone for the rest of the website. Once approved we move into designing the internal pages. Again we make the mockups interactive directly in the web browser just like the wireframes to let you and key stakeholders validate the user experience.
Qualitative User Testing
Conducting user testing is a bit like performing a qualitative analysis on our initial design hypothesis. In other words, are users interacting with the website in ways we predicted? By analyzing patterns of site interaction we can see if the user experience needs to be tweaked to further enhance the flow of traffic and, ultimately, increase conversion. By staying objective, we can learn quite a bit from this stage, and reduce the need for future adjustments or redesign post-launch.
Task Analysis/ Validation
Design to WordPress Development Hand-off
After the web design process is completed we hold design to development hand-off meeting to review the final specifications and answer any final questions. We go over the front-end, things like animations, interactions, sticky elements as well as back-end build to ensure your custom WordPress theme will be a joy to update and maintain.
Go over front-end interactions

Set timeline for Custom WordPress Theme Development
What Can a Website Say About Your Company?
A website can be as powerful a branding experience as a storefront, and for many businesses it is a primary way of engaging with patrons. The right web design not only presents a professional appearance, but also attracts and retains customers at all levels of the sales funnel. This also applies to B2B website design. After all, what good is a new look if it doesn't grow your business and serve the needs of customers?
Beneath the surface we leverage the WordPress platform to integrate and enhance important aspects of your company like customer data management, lead generation, booking systems, product inventories, and more.
The end result is more traffic, more leads, and more website conversions. Our goal on every project is to provide a final product that both the client, and the design team, can be proud of.
At Sayenko Design we take a scientific approach to align design with data. Site elements are mapped out in accordance with usability studies, user Q&A provides real-world feedback, defined problem points are worked around, task hierarchy determines priorities, and collaborative design aesthetics give the client final say in the overall style. From step one, our professional web design process is tailored to the end user in mind.
Why Us for Professional Web Design Services?
Nationally Ranked Top-Five: We consistently deliver on client expectations for professional web design services. On Clutch.co we boast 39 verified reviews with an average of 4.8 stars. Clutch has the most in-depth Seattle web design agency  reviews on the web that are written in a case study format – challenges, scope, team composition, project cost, and end results are quantified. See what our past clients have to say about us!

Seasoned Experts: Our professional web designers and marketing team members each have 10+ years of experience. Their sole focus is on delivering exceptional human-centered design. You won't find many teams that have that level of experience! We are always 100% transparent on which team members will be taking on your project.

Serving your Best Interest: We want to design the best possible digital experience for your customers and staff. We take a qualitative approach in looking for patterns to figure out user challenges, motivations, and behaviors. Often times as individuals we are heavily invested in a project and it's hard to stay objective. This is why we conduct user surveys, gather analytics data, and test initial reactions on messaging, design, and calls to action. 

Our team learns and grows through the development process to avoid an uncompromising 'vision' that may not best serve the customer or company. There's no ego driving the design here! Each project from Sayenko Design is a collaborative process between developer, client, and end user.