Web design trends are constantly fluctuating. As a result, this is an ever-evolving field. As in any other walk of life, innovation in web design comes from looking into the present trends and how they may develop in the future.
Technology plays a vital role in the web design process and can provide a platform for new ideas and innovations. Animation, interaction, and immersion allow you to express your imagination.
This article will discuss some of the most forward-thinking design trends we expect to see in 2023. These include things like:
Behavioral design
Voice optimization
Thumb-friendliness
We will also talk about several established trends, like quick load times and bold typography, which we expect to continue going strong in 2023 and beyond. Let's get started!
Read more about previous web design trends and UX principles:
Below are some inspiring web design trends for 2023 that are sure to increase engagement and conversions on a website.
Behavioral Design

Quick Load Times

Thumb-Friendliness Mobile Navigation

Voice Optimization

Accessibility

Artificial Intelligence

Catchy Color Palettes

Videos

Micro-Interactions

Focus on User Experience (UX)

Lazy Loading

Eye-Catching Fonts

Negative Space and Visual Borders

Blur Effects

Symmetry
If you weren't very physically active before the advent of fitness apps, you're not alone. Many people have been motivated by these applications to keep track of the calories they put into their bodies through food and those they burn through various forms of physical exercise.
The apps motivate us to maintain our positive habits by rewarding us with badges, coins, and achievement trophies. That's behavioral design at work. Users are more likely to engage with an experience if it is interesting enough to trigger the desired behavior.
As you interact with these apps or sites, you take specific actions, develop habits, and engage in certain activities (meditation, cycling, language learning, walking, etc.). The behavioral design combines technology and psychology with innovation and creativity to discover what makes people behave the way they do and helps them change their habits for the better.
The popular meditation app Headspace is an example of a product that incorporates behavioral design thinking. By encouraging users to meditate daily, the platform can keep them coming back.
When it comes to behavioral design, it is all about triggering user behavior through visual cues. For example, on the ConvertCart and GiftRocket homepage, rocket and hand illustrations draw users' eyes toward their primary list of features and services. The best designers achieve this with the help of science and established behavioral design principles.
When to use it?
2. Quick Load Times are Still Important
Speed is an important web design standard. Loading times have been critical in UX and SEO for years, and they continue to be a top priority.
Although page speed is hardly a new trend, it is worth putting in a list like this because it will not go anywhere anytime soon. That's why you need to consider it whenever you're looking to:
Build a brand-new website
Launch a site update
Create a new page design
If you ignore loading times in your web design efforts, you risk losing a lot, including search engine rankings, traffic, conversions, etc.
Search engines like Google now evaluate the page speed of a website. It measures how quickly a page loads and how soon it becomes available to users using Core Web Vitals and other factors.
Here are some steps you can take to improve page speed:
Set up a content distribution network (CDN)

Condense your HTML, CSS, and JavaScript code
You can also outsource your page speed optimization efforts to save valuable time and effort for your in-house WordPress development team.
3. Thumb-Friendliness Mobile Navigation
Remember your mobile audience as you adapt to next year's web design trends. Increasingly, mobile is replacing desktop when it comes to browsing the web — making your site thumb-friendly will be a big focus this year.
People typically scroll, click, and navigate websites on smartphones using their thumbs. It is essential to add and place elements on your site where a user's thumb can easily reach them.
Typically, mobile sites have hamburger menus (the three-line icon at one of the top corners of a page). In most cases, this menu is at the top left. Assuming a reader is holding their phone with both hands and they have an average-sized screen on their smartphone (6+ inches), they can't reach the top left (or top right) of the screen using either thumb.
For mobile users, the hamburger menu may need to be moved to a different place, like the bottom right corner. This way, your mobile audience can browse your site faster and more efficiently.
Things to keep in mind:
With progress in mobile technology, devices and languages will change, but there will still be a demand for touchscreen devices. As the thumb zone is one of its most important aspects, designers must always keep it in consideration when designing.

Navigation should be easy to use by keeping important links within reach and not requiring the user to scroll through content. Unimportant links can then be placed at the footer of the page or on a separate page.

Nailing swipe gesture areas becomes more straightforward when considering how a person's thumb swipes against a screen.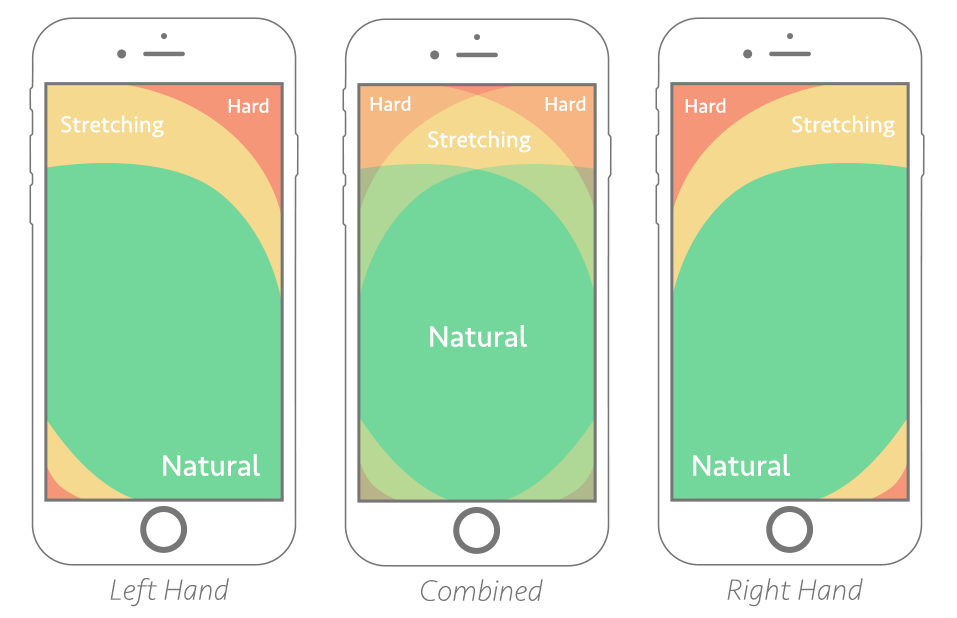 Thumb zone mapping for left- and right-handed people. The "combined" zone shows the ideal placement areas for most users
Globally, voice assistants are expected to generate $19.4 billion in e-commerce transactions by 2023. This is a 400% increase compared to just two years ago, and it is caused by the increased use of voice assistants to purchase items, mainly through smartphones and smart home devices, which makes voice optimization one of the most important web design trends at the moment.
Websites are increasingly optimized for voice searches today, and the same will be true in 2023. Your website must be optimized for voice search to rank well in search results.
You're probably well aware that your website can only funnel highly qualified traffic with great search engine rankings. No matter how beautiful a website you design, it might go unseen if you don't rank high.
Natural language processing (NLP) is becoming increasingly important for websites to reach all audiences, including those who search by voice, through assistants Siri and Alexa. Get the most out of voice integration by working with a reputable voice search optimization team!
How to optimize my e-commerce website for Voice Search?
Understand your audience and device behavior

Think of conversational keywords

Map content based on user journeys

Include Frequently Asked Questions on product pages and resource articles

Keep it local and think mobile
Your website's color palette is one of the first things you should reconsider in the new year. A website's colors greatly influence the audience's perception of a brand, and the color palette plays a significant part in a company's identity and its strategies for brand awareness.
People will associate your brand with your colors. They're an essential aspect of your business, so keep them up-to-date and fresh.
The use of bright colors is a big website design trend for 2023. Colors catch your audience's attention and keep them engaged. If you think your color palette has started to look a bit old and dreary, now's the time for a change.
Make your website pop by choosing brighter colors. This is a great way to make your website stand out with a unique and fresh look.
Another upcoming trend involves black and white palettes with brightly colored accents. These create a unique experience for your users, allowing them to see the site in an entirely new light. The critical elements and points of interest on the page will stand out with these accent colors, and the black-and-white base allows you to go a bit crazy with the shapes and textures as well.
A black-and-white palette also allows you to "mark" different parts of your website with different accent colors facilitating navigation. Think of how colors are used to map out different hiking paths and bring a similar approach to the design of your website, highlighting various points of interest. Your users will thank you for it.
If you're not up for a massive design change, at least take another critical look at your color palette and ensure it still resonates with your audience.
As video platforms like YouTube, TikTok, and Instagram Reels grow in popularity, businesses should look to make video a more significant aspect of their websites. Adding more videos to your site will create additional engagement points and help you stay competitive.
This breaks up the textual content on the site and creates diversity on each page. Videos are also perfect for on-the-go audiences. It may not be possible for them to read the entire contents of a web page, but a two-minute video can give them everything they need to know.
With Google now displaying mixed results that include more and more videos, now is the time to start incorporating videos into your marketing strategy. As a result, you gain more exposure and engage new leads.
When to use it?
People would rather see a video than read a wall of text

Great way to build your brand narrative, engage with your audience and paint a story

Google shows mixed results that include more and more videos